In ancient Indian Sanskrit "Sahaja" means "natural state or disposition". At Sahaja Wellness we offer personalised holistic natural services and programs which focus on diet, lifestyle, stress management, bodywork, yoga and meditation practices; all designed to compliment your unique natural state of wellness.
Angie
Ayurvedic Practitioner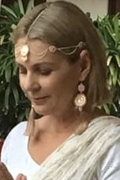 Angie has worked in the health and wellness sector for 20 years. She is a passionate, nurturing and thoughtful practitioner dedicated to supporting her clients to achieve balance and harmony of mind, body and spirit. Angie holds a Diploma in Population Health (Nutrition) and an Advanced Diploma of Ayurveda.
3/278 Saint Heliers Road, Saint Heliers, Auckland
0424766739
Monday

Tuesday

Wednesday

Thursday

Friday

Saturday

10:00am - 9:00pm

10:00am - 9:00pm

10:00am - 9:00pm

10:00am - 9:00pm

10:00am - 5:00pm

10:00am - 3:00pm